Ad blocker interference detected!
Wikia is a free-to-use site that makes money from advertising. We have a modified experience for viewers using ad blockers

Wikia is not accessible if you've made further modifications. Remove the custom ad blocker rule(s) and the page will load as expected.
Featured article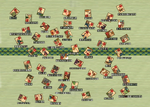 Iroha Karuta いろは かるた is a card game played with the yuujo in Ryū Ga Gotoku:Kenzan! (龍が如く見参!). It is a card memory game, however, it relies on knowing a bit of Japanese (Kanji and Kana) to be able to beat the girls. Click on the image here and then click on "See full sized image" to see it in close up.
User:Obsessive_compulsive has devised this guide to help players pass this game:
Try and remember the first Kanji shown.
Hit SELECT to pause the game.
Look at the image to try and find the card. The cards are placed in a different order each time so this image is just a guide.
Go back into the game and try and find the card.
Remember, each time the game is played the cards are placed in a different order and that the image is just to help you find the card.
Latest activity
User:Obsessive compulsive
edited by Obsessive compulsive

Summary:
‎

Work in Progress ::

User talk:Yimbocarimbo
edited by A Fandom user